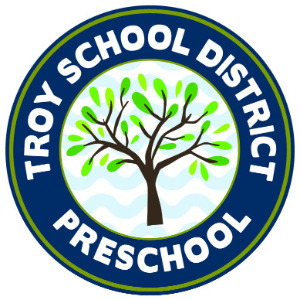 The Troy School District Preschool provides a World Class early-learning experience for all learners. Your child will receive a high-quality foundation of learning in a nurturing, literacy-rich environment directly aligned to our K-12 Troy School District curriculum.
School Year 2023-24

You are invited to attend in person at the 2023-24

Preschool Information Night
Wednesday, January 11, 2023, 6:00pm.
TSD Preschool
205 W. Square Lake Road
* This is an adult only event
PROGRAMS

Tuition Preschool - We offer full and part time tuition preschool for children ages 3-5. Enrollment for the 2023-24 school year begins on Tuesday, January 17th. Families in need of before & after school childcare can enroll in spring of 2023.
PreK - PreK is our Free Preschool for children who turn age 5 before December 1, 2023. This is for residents of Troy School District. Enrollment for PreK takes place during Kindergarten Enrollment via Central Enrollment starting in February 2023. Enrollment for PreK is not through our preschool office, however, we can assist with the process. PreK Information Night will be in May 2023. Watch our website for date and details.

GSRP
-
Free Preschool for children who are age 4 by December 1, 2023. Income is the primary qualifying factor.
Create your account in Mi Early Childhood Connect:
GSRP 20
23-24 INTAKE FORM
Explorer's Program
-
B
efore and After School Childcare Program- hours are 7:00-8am and 3:00-6pm for students enrolled in our preschool programs. The Explorer program requires a separate enrollment and fees. Enrollment will open in Spring of 2023.
Registration and Enrollment
Step 1 Register in ELEYO for your class
Create your family profile in ELEYO
Step 2 Required after Step 1-Enroll in PowerSchool
Review Troy School District Enrollment requirements

Enroll in the Troy School District (PowerSchool)
A HIGH QUALITY PRESCHOOL EXPERIENCE
Take a peek at what sets Troy School District Preschool apart! Early literacy is at the heart of our daily interactions with children. We are instilling a love of literacy every day! Preschool students are becoming readers and writers with the support of their teachers' expertise. Troy Preschool teachers work with our Kindergarten teams to ensure that we are empowering our youngest students for a seamless transition to the Kindergarten classroom. It is our continued commitment to prioritizing health & safety​ for our students and staff.

WORLD CLASS FACILITY

Opened Fall 2019. Tailored specifically to children ages 3-5. Our facility has spaces to challenge your children and interiors to stimulate learning. Keeping parents informed by offering one way windows for a peek into their child's classroom.

TROY SCHOOL DISTRICT PRESCHOOL
205 W. Square Lake Road
Troy, MI. 48098
Office hours: 8:00am - 4:00pm

Main #248-823-3000

Fax #248-823-4513

Email: tsdpreschoolinfo@troy.k12.mi.us

Director, Early Childhood- Erin Keyser
" We had our first experience with TSD preschool this year. Our child has a late birthday, so they were enrolled into the pre k program. We were very nervous as he never had any school experience before. Day 1 he was welcomed and overjoyed. He has shown so much growth in just a few months and we can't thank the school, but especially his teachers enough. Not only academically has he grown, but his self-confidence has skyrocketed too. We have been so incredibly thankful for his teachers this year and have had nothing but amazing experiences."
Shelby Swinburnson

2022
"One of the main reasons for our family moving to Troy was the Troy Preschool. We tried to find a similar alternative in other districts, but there were no comparable options, including private preschools. Once it was time to enroll our oldest, the school's principal, Mrs. Keyser made enormous efforts to explain to us every single detail of the program. She took time to meet and play with our toddler even before enrolling him. Once we became part of the community, we found kind, smart, attentive, diverse and enthusiastic teachers who love what they do. Communication from the district is open, clear and straightforward and issues are addressed fast and smartly. Most of the staff goes out of their way to make the children comfortable and engaged and we feel they would do anything to keep them safe and happy.

"
Ninon Casillas & Roberto Cruz Figueroa García

2022