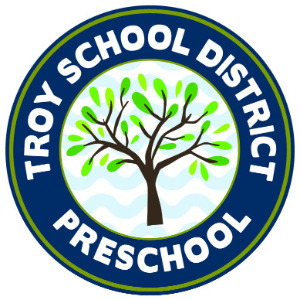 The Troy School District Preschool provides a World Class early-learning experience for all learners. Your child will receive a high-quality foundation of learning in a nurturing, literacy-rich environment directly aligned to our K-12 Troy School District curriculum.
Returning families

Sign in (upper right hand side of this screen in blue bar).
Directions: link

New Families
If you are interested in the remainder of the 2020-21 school year, please call 248-823-3000 for class availability.
View our Preschool-Virtual Information Night: link

Now enrolling for 2021-22

Full day:$9,000/year
Half day: $5,100/year
Before & After Care (Explorers) 6:30am to 6pm for additional fee

Step 1 - Directions for setting up your account with Eleyo, link

Step 2- Complete enrollment into the Troy School District, link

*Closed July 5 & August 16-30
Enrollment begins March 22-June 5

Summer preschool class options are:
For 3-5 year olds * potty trained (includes PreK)

Full day/5 days- $250/wk

Half day/5 days-$150/wk ( AM classes only)

Non-refundable enrollment fee $105

Enroll for the weeks you need

Explorers-before & after childcare- additional fee

Hours 7-8:30am/3:30-6:00pm
After June 5th, 2021, families need to contact the preschool office for enrollment. Call 248-823-3000. We require a 7 day grace period before your child can start.

A High Quality Preschool Experience
Take a peek at what sets Troy School District Preschool apart! Early literacy is at the heart of our daily interactions with children. We are instilling a love of literacy every day! Preschool students are becoming readers and writers with the support of their teachers' expertise. Troy Preschool teachers work with our Kindergarten teams to ensure that we are empowering our youngest students for a seamless transition to the Kindergarten classroom. It is our continued commitment to prioritizing health & safety​ for our students and staff.

Michigan's 2020-21 Return to School Roadmap

TSD Preschool COVID Response & Preparedness Plan

WORLD CLASS FACILITY

Opened Fall 2019. Tailored specifically to children ages 3-5. Our facility has spaces to challenge your children and interiors to stimulate learning. Keeping parents informed by offering one way windows for a peek into their child's classroom.

TROY SCHOOL DISTRICT PRESCHOOL
205 W. Square Lake Road
Troy, MI. 48098
Office hours: 8:00am - 4:00pm

Main #248-823-3000

Fax #248-823-4513

Email: tsdpreschoolinfo@troy.k12.mi.us

Director, Early Childhood- Erin Keyser
"We transferred our daughter from another location to the TSD preschool this year and could not have made a better decision. The new facility is beautiful and filled with state-of-the-art amenities but, more importantly, the teachers and staff are warm and knowledgeable. Our daughter is in Mrs. Chetcuti's class and absolute LOVES going to school each day. We have noticed great improvement in our daughter's interest in books, her ability to write and spell several new words and in her overall enjoyment for learning. From a parent experience, it does not get better than the TSD preschool. We look forward to the daily photos and posts we receive explaining what our daughter worked on that day and appreciate the overall great communication that we've experienced. Our minds are at ease knowing our daughter is in a clean, safe and encouraging environment that will surely prepare her for kindergarten this Fall."
"Over the past three years, my son has grown tremendously in the TSD Preschool program. As a student with special needs, the unconditional acceptance, patience, and care he has been shown by the teachers and staff, while pushing him to achieve, has allowed him to thrive. I am grateful for their constant communication and availability in working with my husband and I to incorporate lessons learned in Preschool into our home."
Allyson Vesprini
"Troy Preschool teachers work with Kindergarten

staff to empower our youngest students a seamless

transition into the Kindergarten classroom"
Troy School District